NEWYou can now listen to Fox News articles!
Fox News host Jesse Watters ripped into Trump White House "low-level, junior staffer" Cassidy Hutchinson's January 6 Committee testimony on "Jesse Watters Primetime."
JESSE WATTERS: You may be asking, who's Cassidy Hutchinson? It's a good question. Took awhile for "Primetime" to figure it out, but she was apparently a low-level, junior staffer at the Trump White House. But this junior staffer became the leading lady in yesterday's made-for-TV drama. The New York Times described it as a "very special episode" and a "jaw-dropping production." 
JANUARY 6 HEARING: TOP 5 MOMENTS OF EXPLOSIVE CASSIDY HUTCHINSON TESTIMONY ON TRUMP, ATTACK ON CAPITOL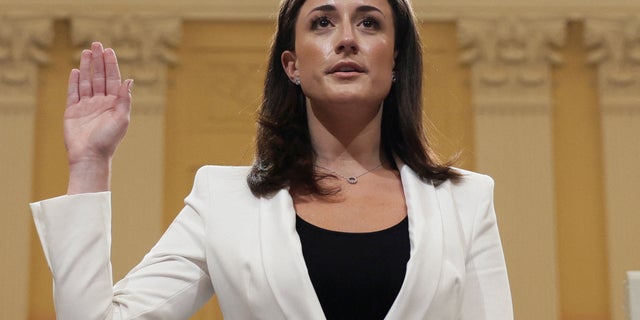 Is this a serious congressional committee or an episode of "West Wing"? Because her testimony was reviewed by a New York Times TV critic. Cassidy was cast perfectly for this role. She gave the audience, Schiff and Cheney, especially, exactly what they wanted to hear. A jam-packed action scene straight out of "24" — I mean, the Trump White House.
…
It was TV gold and the media loved it. They rushed out articles like this, saying, "Trump lunged for an agent's throat on January 6," but excitement got the best of him. It's what happens when you're watching an action movie. Sometimes you just forget it's not real, and here's where they got lost. First of all, Hutchinson says a Secret Service agent told her this all went down inside of the Beast, but Trump was never in the Beast when this allegedly happened. There's literally video of him getting inside of an SUV after his rally, the same car that took him back to the White House. Do you really think the Secret Service agents can't tell the difference between the Beast and an SUV? 
TONY ORNATO DID NOT BRIEF CASSIDY HUTCHINSON THAT TRUMP TRIED TO LUNGE AT SECRET SERVICE AGENT: SOURCES
Also, there were three agents with him in the car, the driver, an agent in the passenger seat and one agent in the back. Can you really imagine the president of the United States leaping out of his seat, bypassing two agents and somehow grabbing the throat of a Secret Service agent while also reaching for the steering wheel with his other hand. They said this president couldn't even walk down a ramp and now all of a sudden he's Bruce Willis. Hutchinson wasn't even in the car when any of this happened. She says this one Secret Service agent told her about it, but the agent says, "No, I didn't," and he's willing to testify.
CLICK HERE TO GET THE FOX NEWS APP
WATCH THE FULL SEGMENT HERE: