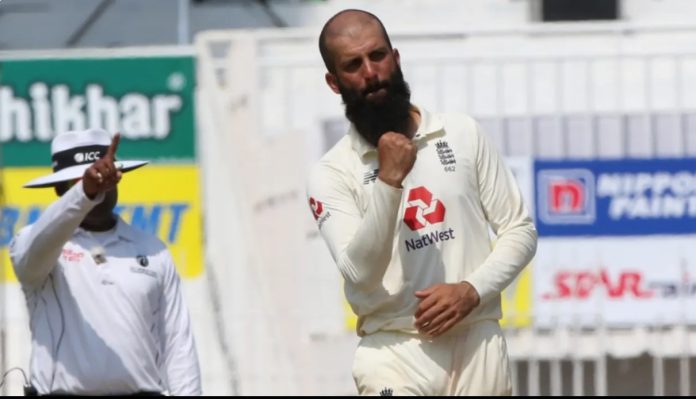 Article top
Moeen Ali has finally decided to hang up his boots from Test Cricket. The allrounder stated that following an "honest" discussion with coach Brendon McCullum, he has given up on playing Test cricket again.
After making his test debut in 2014, Moeen went on to amass 2,914 runs at an average of 28.29 in 64 tests while taking 195 wickets. The 35-year-old declared his retirement from the game's longest format in September of last year. He claimed in June that McCullum had spoken with him about a possible red-ball comeback.
In December, England's test team will play Pakistan in a three-match series. Moeen has declared he won't be there.
Retirement Confirmation
Moeen wrote, "I've had an honest chat with Baz (McCullum) and I can't see myself being stuck in hotels for another month and playing to the best of my ability. Baz phoned me, we spoke at length and I said, 'Sorry, I'm done'. He understands, he knows the feeling. Test cricket is hard work. I'm 35 and something's got to give.
"I want to enjoy my cricket and it wouldn't be fair to reverse my decision and then struggle to give it my all. It's time to close the door on that side of my career. To play 64 tests for England has been a privilege and a dream fulfilled."
Talks of Comeback
Earlier in an interview, he talked about honour of playing for England. He talked of what it means to him as he said, "It is obviously an honour and the more you think about it, the more you realise how nice it is and how rewarding it is. More than anything, I know it makes my parents happy and that's the most important thing. It is one of the main reasons for accepting. It's amazing and my family are really proud and happy."
After Brendon McCullum was named the new head coach of the Red-ball cricket squad, the former Test cricketer expressed interest in returning to Test cricket.

He said, "Baz [McCullum] messaged me asking if I was 'in'.I have played with him in the Indian Premier League and really enjoyed the way he works. We spoke and he mentioned potentially, in the future, if there is a tour – or whenever, really – would I be available? I said 'call me at the time'. We'll see.
Records in Test Cricket
For England, Moeen Ali has appeared in 64 games wearing white. The left-hander has scored more than 3000 (2914) runs in Test cricket at a pace close to 30. Additionally, he has 514 fifty with the bat in the whites.
Ali has 195 wickets with the red ball under his arm, at an average of 36.66. This includes five five-wicket hauls and one ten-wicket haul. In addition, Ali has participated in 38 T20 Internationals and 112 One-Day Internationals (ODIs) for England.
He has scored 1877 runs in ODIs while only managing 437 in T20Is. The right-arm spinner has 87 ODI and 21 T20I wickets to his credit.
Matched Content Ad