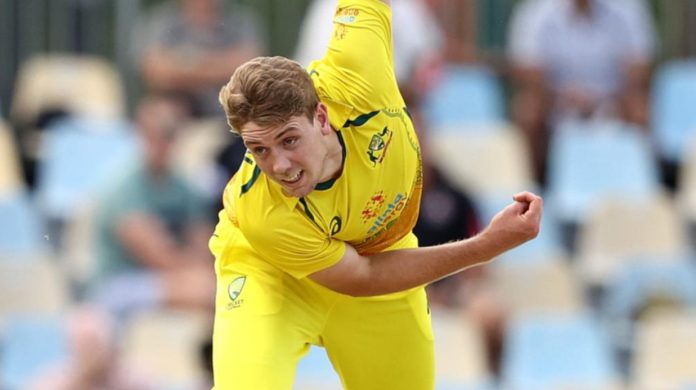 Article top
Cameron Green is unlikely to make Australia's T20 World Cup roster, according to Aaron Finch. The captain also revealed that the defending champions are close to deciding on their best XI.
The Australians play West Indies on the Gold Coast in a two-match T20I series this week. This starts the first of six home games they will play before their tournament debut later this month.
Green has been retained for the Windies matches this week. He is not in the 15-man World Cup team. His retention is due to the fitness of allrounders Mitch Marsh (now only available as a batter while he recovers from an ankle injury.  And Marcus Stoinis (still out with a side strain).
In David Warner's absence, the 23-year-old prodigy opened the batting for India last month, smashing two quick half-centuries against the world No. 1 team. Last week, Test skipper Pat Cummins made a suggestion that Green may be included in Australia's Cup team in the event of any injury.
Clarity on Cameron Green's Inclusion in WC 2022 squad
But Finch was less certain as he spoke reporters at Metricon Stadium on Tuesday. He said, "I'm not sure at the moment – I don't think so. It's just one of those things – he had a really good tour of India, it was good for him to get an opportunity to open the batting so he'll get more opportunities.
"He'll get an opportunity at some point in this series. The reason we've carried him is to have an extra bowling resource as well.
"Obviously his batting is exceptional, and he shows a lot with the ball. He keeps developing and he keeps improving every time he gets an opportunity."
Despite waiting until the coin toss to announce their lineup for Wednesday's series opener, Finch, 35, said the team's coaching staff is certain they have their strongest XI at the World Cup.
Injury Update for T20 World Cup 2022
David Warner and Mitchell Starc are also available as the trio did not make the quick journey to India, and he made clear that Marsh will play at No. 3 even if he is not bowling.
Talking about Marsh he says, "He's made that number three spot his own in T20 Cricket."
"The way that he played in the lead up and then through the World Cup (last year). It is so important for the way that we want to play. It gives us a lot of flexibility through that middle order."
Stoinis is now finishing recovery. He is adamant about returning to his middle-order position for Sunday's opening T20I against England in Perth.
The decision to favour Tim David's strength over Steve Smith's dexterity in the middle order is still up in the air. "It just depends on the way we want to structure up the team," Finch said.
Team Balance for T20 World Cup 2022
Talking about team Balance he said, "It's never easy when you're trying to balance up the side, particularly when the allrounders aren't fully fit at the moment. That gives us an opportunity to keep tinkering with the squad.
"We feel as though we've got our best XI in the back of our mind, but it's just not everyone's 100 per cent fit at the moment to make that happen. But we've still got a little bit of time for that over the next two and a half weeks."
"For the balance of the side, it's better when they (Marsh and Stoinis) are both bowling. Because you can get caught a little bit short (on batting) if you go in with five bowlers"
Men's T20I Series v West Indies Squad
Australia squad: Aaron Finch (c), Sean Abbott, Pat Cummins, Tim David, Cameron Green, Josh Hazlewood, Josh Inglis, Mitchell Marsh, Glenn Maxwell, Daniel Sams, Steve Smith, Mitchell Starc, Marcus Stoinis, Matthew Wade, David Warner, Adam Zampa
Matched Content Ad